Enriched Shareholders
We believe that expectations shape behavior. That's why we set lofty performance goals, especially when comparing ourselves to peer banks. 2014 was another year of top-quartile execution and performance.
We produced consistently strong asset quality metrics in 2014, providing meaningful credit leverage for our firm.
Profitability
Our strategic approach to growth and profitability has been widely communicated over the last three years. Essentially we said that we would grow our balance sheet in the form of loans at a double-digit pace from 2012–2014 while containing noninterest expenses, which would result in dramatically improved profitability.
We have overachieved on our target for return on average assets, ending 2014 at 1.27 percent, near the top of our range of 1.10 to 1.30 percent for ROAA. In fact, we've raised the bar for 2014–2016, now targeting a range of 1.20 to 1.40 percent.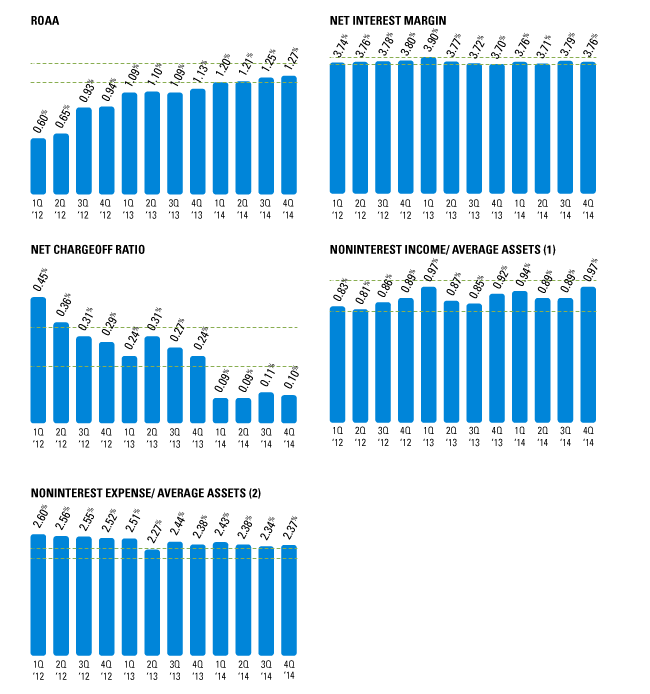 Calculation excludes net gains and losses on the sale of investment securities and in the second quarter of 2013 noncredit related loan losses
Calculation excludes OREO expense and FHLB prepayment charges. Noninterest expense for 2Q13 includes the impact of the reversal of a $2.0 million allowance for off-balance sheet commitments
Also, for nearly all of the critical components required to sustain that ROAA, we are operating better than or within the published long-term target range. The only exception is the expense to asset ratio, but our performance on fees to assets and net charge-offs has more than offset the small shortfall. Continued growth and operating leverage should bring the expense to asset ratio within the targeted range in 2015.
Growth
We continued our record for double-digit EPS growth in 2014, actually exceeding the $2.00/share earnings budget that we set. Our 2014 target represented more than a 20 percent growth rate in earnings per share, which we topped at 20.4 percent.
In addition to earnings growth and asset quality, revenue growth is one of the most important valuation drivers. Our organic revenue growth rate (excluding securities gains and losses) was 12.6 percent year-over-year.
The cornerstone of our plan for improved profitability was the loan growth target we set for 2012-2014. Beginning in January 2012, our goal was to produce $1.27 billion in net loan growth by the end of 2014. We achieved that and then some, finishing the year with $1.30 billion in net loan growth for a compound annual growth rate of 11.7 percent. Very few banks set multi-year, double-digit organic balance sheet growth targets. But we set them, we published them, and we exceeded them.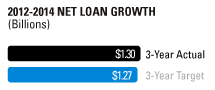 We also grew deposits in 2014 at an annualized rate of 12 percent while lowering cost of deposits to 20 basis points, which speaks to the relationships our financial advisors enjoy in the market and the value of our distinctive service and effective advice.
Shareholder Value
Our shares rose 22.7 percent during 2014, more than double the 10.5 percent increase of the average stock price among U.S. banks and thrifts, according to data from SNL Financial.
In addition, we have been the second-highest performing bank stock in the nation since opening our doors in the fourth quarter of 2000—more substantiation that our obsession with our work environment and client satisfaction does indeed lead to outsized shareholder returns.
We remain committed to building shareholder value using our strategic approach to soundness, profitability and growth, taking advantage of the operating leverage we now possess. Our plan for earnings growth going forward is based on a proven ability to organically grow revenues, which in our view is a more valuable earnings stream than one built on expense cutting. We are able to produce outsized growth because our markets are relatively more vibrant than most and because we have created competitive distinction in those markets.
Outlook for Future Growth
Another critical factor in our approach to creating long-term shareholder value is aligning associates' interests with those of our shareholders. Our associates feel like "owners" of this firm because they are. Three commitments ensure that everyone involved with the firm has a stake:
Inside ownership, including directors, is approximately 7.2 percent.
All associates receive restricted shares of stock when they start and each year thereafter.
Virtually all associates participate in an annual cash incentive plan that is based primarily on meeting the firm's targets for loan quality, revenue growth and earnings per share growth—the three factors most closely correlated with share price performance.
We anticipate that all of our shareholders will continue to enjoy benefits from this strong alignment and the long-term results it should continue to deliver. We also remain confident in our longstanding formula for success—that our excited associates will continue to engage clients and that those engaged clients will enrich shareholders and produce outsized returns.
Benefits of Our Markets
Excellent quality of life, moderate climate and numerous tax advantages are just some of the advantages of living in Tennessee.
Tennessee was again Business Facilities magazine's State of the Year in 2014 for its aggressive execution of a diversified growth strategy. Tennessee also was recognized as the No. 1 state for jobs created through foreign direct investment, according to the IBM Institute for Business Value. Within Tennessee, Pinnacle operates in the state's two top banking markets—Nashville and Knoxville.
Pinnacle holds the fourth-largest market share in Nashville behind three large regionals, making us the largest locally owned alternative for clients. The firm has quickly grown to be the sixth-largest financial institution in the Knoxville market after a 2007 de novo expansion into the area.
Nashville
Nashville continues to receive attention from the national press for its quality of life, restaurant scene and business startups. The city's diverse economy, thriving cultural base and strong business community are major attractions for corporations. Economic development accolades in 2014 include:
Knoxville
Knoxville also enjoys an extremely healthy and diverse economy with an excellent transportation and technology infrastructure. Among Knoxville's rankings in 2014:
Shareholders discuss the value they receive for investing in shares of Pinnacle.