Engaged Clients
At Pinnacle, our associates are intent on "wowing" our clients with an experience they simply can't get at any other financial services firm.
Pinnacle's own surveys and independent research by Greenwich Associates show that we are excellent at meeting our clients' needs in an engaging way that results in great loyalty.
Awards from Greenwich Associates
Financial consulting and research firm Greenwich Associates honored Pinnacle with two "Best Brand" awards in 2014—one for Ease of Doing Business and the other for Trust in small business banking. The awards, which signify how easy it is to work with Pinnacle and the trust clients place in the firm, are based on customer "excellent" ratings.
High Scores on Client Satisfaction Surveys
We appreciate awards from independent third parties but find the most value in hearing feedback straight from clients. While we collect raving testimonials throughout the year, we are intentional about surveying clients to see what's working and what could be improved. We are proudest that more than 96 percent of respondents agree that "Pinnacle is recognizably better than its competition."
Key Strategies for Engaging Our Clients
External research and client feedback validate the importance of Pinnacle staying the course with the same key business strategies we've employed since the firm's inception.
Focus primarily on businesses, their owners and employees, as well as consumers who desire more from their banking relationship than just the best price.
Hire and retain highly experienced and qualified financial services professionals.
Provide distinctive service, effective advice and extraordinary convenience in exchange for premium pricing.
Businesses, Owners and Employees
Strategy 1: Focus primarily on businesses, their owners and employees, as well as consumers who desire more from their banking relationship than just the best price.
Our targeted focus on businesses, their owners and employees has helped us achieve extraordinary penetration of those segments. More businesses with sales from $1 million to $500 million in Nashville call Pinnacle their lead bank than any other bank in town. Nearly 91 percent of our demand deposit account balances come from businesses. And in 2014 we were the No. 1 small business lender in Middle Tennessee, according to the Nashville Business Journal.
Full Line of Financial Services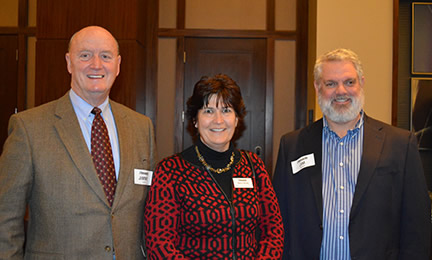 While we focus on business owners and their employees, we strive to meet all of a client's financial needs, from personal to business to investment accounts. Every client has a primary contact, usually a financial advisor, who can assemble a team with a variety of expertise to provide a solution customized to his or her unique needs.
Financial advisors for personal banking advise individuals or families on the best types of accounts for their deposit and borrowing needs. Our mortgage advisors are experts in the housing industry and guide homebuyers through the process.
Many of Pinnacle's business financial advisors have expertise in certain industry sectors, such as health care or logistics; key business functions, such as treasury management; or certain market segments, such as small businesses.
Our wealth management capabilities best demonstrate Pinnacle's intent to be "more than a bank." Wealth management associates help clients grow, manage and distribute assets through financial planning, investment management, trust and insurance services.
Greenwich Associates' research indicates that our business clients appreciate the full line of financial services we offer. In Nashville, on average, our business clients have chosen Pinnacle as their provider for 4.1 unique financial services, versus a range of 3.1 to 3.6 products for our primary in-market competitors.
Experienced Financial Professionals
Strategy 2: Hire and retain highly experienced and qualified financial services professionals.
Given our strategy of focusing on businesses, their owners and employees, banking at Pinnacle is built on relationships. The only way we can fulfill our brand promise of distinctive service and effective advice is by attracting and retaining the most experienced financial services professionals in Nashville and Knoxville.
Pinnacle's financial advisors have a track record of success in these markets, averaging 30 years of experience including their time here. Clients know that they can expect long-term relationships with their partners at Pinnacle, given our retention rate of nearly 94 percent.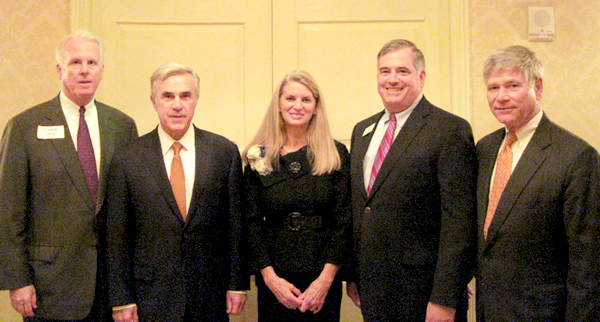 We continue to invest in talented advisors and made several key hires in 2014. Missy Wallen, who retired from BB&T as its Tennessee president, joined us as our Knoxville chairman. Also from Knoxville, longtime SunTrust Robinson Humphrey executive Roger Osborne came to Pinnacle to launch PNFP Capital Markets Inc., our subsidiary that advises corporate clients on M&A, private debt and equity and interest rate derivatives.
Year after year we hire additional high-profile financial advisors who have the opportunity to bring large books of business with them to help meet the aggressive multi-year growth and profitability targets that we have achieved in the past and continue to set for ourselves.
Our advisors' vast experiences in financial services—not to mention their key leadership positions within the community—have added to the depth and breadth of Pinnacle's team. They continue to show great success in motivating clients to move with them to Pinnacle, as our financial advisors have from inception.
Service, Advice and Convenience
Strategy 3: Provide distinctive service, effective advice and extraordinary convenience in exchange for premium pricing.
Any of Pinnacle's associates can tell you the company's vision: to be the best financial services firm and the best place to work in Tennessee. Better yet, they can translate that vision into what they do every day—delivering distinctive service and effective advice—while being easy to do business with.
Distinctive Service
Our associates are committed to answering the phone within three rings because we want our clients to be able to talk to a real person, not an automated system or outgoing voice mail message, when they call. That's the norm, but our passion for client service doesn't stop there. Our associates go beyond what is expected, whether it's creating memorable moments surprising a recent widow with a dozen roses for Valentine's Day or taking it upon themselves to search a trash can for misplaced cash. Our approach to "wowing" clients is to do things that are memorable, delight them, provide unexpected solutions and anticipate their unspoken needs.
That level of service leads to client loyalty. Our "net promoter score," which measures how willing our clients are to recommend us, is almost off the chart and is meaningfully higher than all of the banks we target in terms of taking market share. That's the kind of client engagement we are striving for.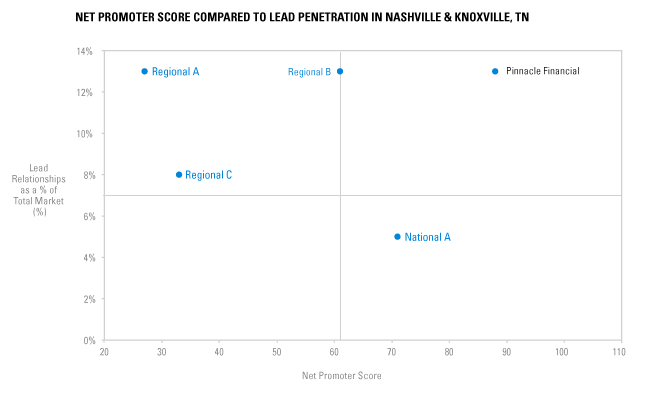 Note: Cross-hairs are set at the mean for lead penetration (Y-axis) and NPS (X-axis). Net Promoter Score equals Promoters minus Detractors. Evaluations are based on a 0-10 scale, "0" not at all likely to "10" extremely likely. Promoter = 9,10; Passive = 7,8; Detractor = 0-6. Question: How likely are you to recommend (Lead Bank) to a friend or colleague using a scale of 0-10 where "0" means Not At All Likely and "10" means Extremely Likely? Which bank or financial service provider do you consider your company's single most important or lead provider of banking services? Source: 2014 Greenwich Associates Market Tracking Program (Pinnacle Financial - Nashville & Knoxville - $1-500MM - R4Q Q3 2014).
Effective Advice
In addition to advising clients on their day-to-day financial needs, we provide other opportunities for learning. Associates and outside experts offer insights into a variety of topics at small workshops that take place in Pinnacle's offices. In 2014, 18 workshops focused on issues such as mortgage financing, retirement and using QuickBooks online. Many of the workshops educated clients about cyber crime and how to make their businesses a harder target for fraud.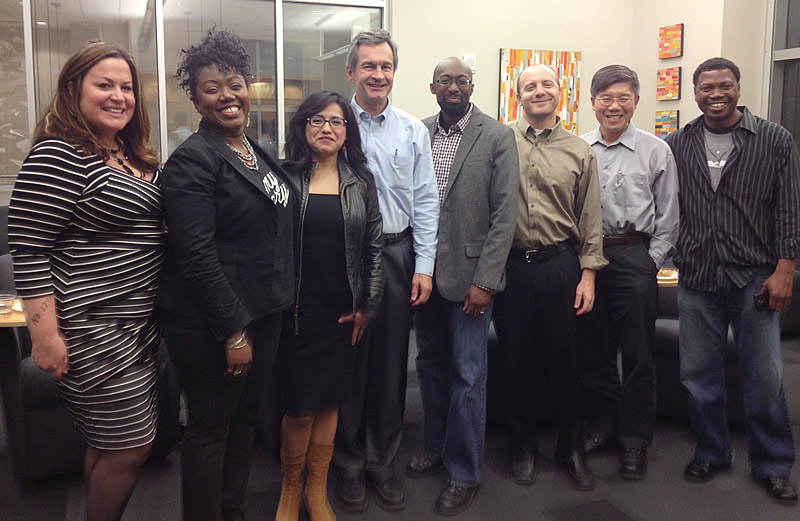 Our financial advisors continue to host Mastermind Groups—groups of eight to 10 small business owners who meet in one of our offices once a week for eight consecutive weeks—to learn from one another and work on their highest priority—growing their business. Nearly 700 small business owners participated in the 2014 Mastermind Groups.
Giving clients access to economic, political and financial experts builds on the effective advice our own advisors provide. The 2014 Pinnacle Forum Series brought in leading outside speakers like Tennessee Governor Bill Haslam and noted economist Arthur Laffer.
Clients can't always attend events in person, so Pinnacle's online Learning Center provides a wealth of information about personal finance, small business ownership, fraud protection, retirement and more.
Extraordinary Convenience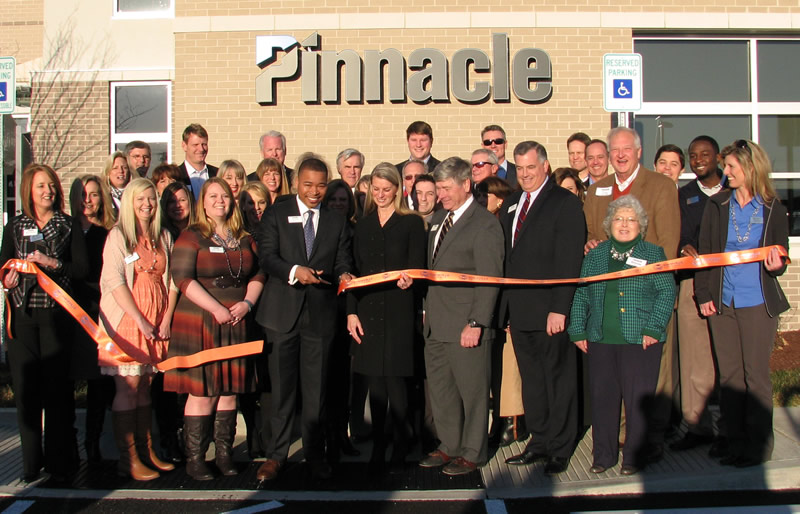 Pinnacle is the second-largest bank holding company headquartered in Tennessee with 29 offices in Middle Tennessee and five offices in Knoxville. In 2014 Pinnacle opened a new office in the Halls/Powell area of Knoxville, further expanding our distribution network in East Tennessee.
In addition to our physical offices, Pinnacle also offers mobile applications for smart phones so clients can check their balances, transfer funds and deposit checks on the go. Businesses can take credit and debit card payments on mobile devices as well.
With these mobile capabilities, our remote deposit service for businesses and online banking features, clients can bank with Pinnacle virtually anytime, anywhere.
Clients talk about why they choose to bank at Pinnacle over other firms.